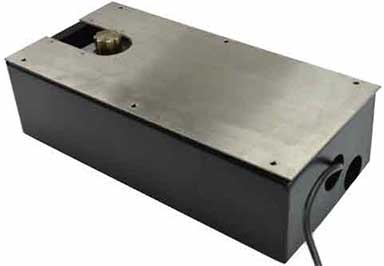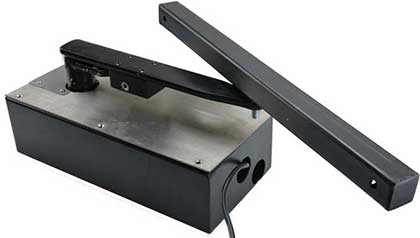 underground electromecanical operator for swing gates. Only the best materials are used to create some of the smallest devices which are also water proof! These are suitable for any type of swing gate, and are designed to operate even under water!
These are not low voltage gate motors, and a 240V power outlet must be supplied close to the gate!

Details
- Safe and reliable electro-mechanical, mounted engine.
- Inside, bearings, gear ratio.
- Long-lasting, high quality.
- Universal mount right or left side, both side are independent.
- Flats and family houses can use.
- Strong mechanical components.
- Galvanized, stainless steel or Stainless power box under the floor-mounting (optional).
- Key clutch mechanism.
- Simple deployability.
- Torque: 380N.
- Maximum kapusúly: 250kg.
- 80% work.
- IP68 protection ratings.
- Dimensions: 430mm L x 200mm W x 120mm H
- Weight: 15kg.
- Power supply: 24VDC.
- Current consumption: 1A.
- Power: 70W.
- Operating temperature: -25 ° C - +75 ° C - CE certification.
- The product complies with EN 13241-1, EN EN 12,453 and 12,455 standards.
- RoHS certificate.

This extra heavy duty 24V DC motor is a powerful unit built from all metal the extra heavy duty motor is for underground installations to cater for installs where there is no space above ground for mounting a motor or for installs where the user does not want the motor above ground. this underground gate opener can handle large gates up to 4.5m width or 300kg in weight.
Above - The underground motor is installed and is waiting for the swing gate to be installed as well.
Specifications
Duty cycle - 100%
Power supply 240v AC
Rechargeable battery - 12v DC
Standby current consumption -15mAmp
Average power consumption - 1.5A
Power supply to accessories - 1 Amp
Over-current protection - 10A
Motor power - 18v DC to 24v DC
Noise Level <50dB
Working temperature -20 - +55 degrees
Thermal cut out 140 degrees
Opening/closing running time 16 seconds
IP rating - IP67
Gate size - 4.5m max
Gate weight - 400kg max
PE sensor power -12v DC, 0.5Amp
Receiver -Learning type
Remote control -4 Buttons rolling code 433.92mhz






Option 1.
Underground unit behind the gate
Centre of Pivot of gate motor inline with the centre of the gate pivot point (hinge)
Arm is at a 45 Deg angle to the channel







Option 2.
Underground unit behind the gate
Centre of Pivot of gate motor offset from the centre of the gate pivot point (hinge) by up to 200mm
Arm is at a 45 Deg angle to the channel

Max
200mm







Option 3.
Underground unit below the gate
Centre of Pivot of gate motor offset from the centre of the gate pivot point (hinge) by up to 200mm
Arm is at a 45 Deg angle to the channel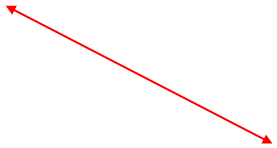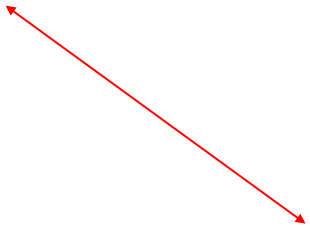 Looking underneath the slide rail
Under Ground Gate Motor
Single Motor
with Control Board - 2 remotes
Part Number - MOT100 - Single Motor
$1280.00
Max
200mm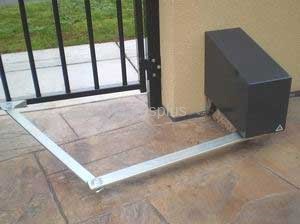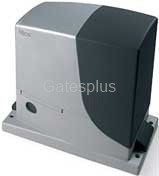 Sliding
Gate
Motor
Gate
Locks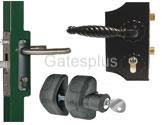 Electro-magnetic
Lock









Under Ground Gate Motor
Double Motors
with Control Board - 2 Remotes
Part Number - MOT104 - Double Motors
$1890.00
Under Ground Gate Motors