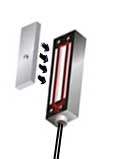 Electromagnetic locks
When current is passed though the coil, the metal plate becomes magnetized and strongly attracts the armature, locking tight the Gate, door, swing gate, sliding gate or boom gate.


*12V or 24V required
*Ideal for Fire and quick escapes
*Can be controls via
Proxy Card
Key Switch
Remote
Keypad
Computer Software
*Weather Proof
*required consist power to lock 12V or 24V


500 Kgs Holding Force

Magnet Size
L-220mm x W-69mm x D-36mm
Holding Plate
L-185mm x W-60mm x D-13mm
Weight = 4.3 Kgs
P/N FK570

$220.00


Protection and Features
1. Build in Surge Absorber protection
2. Top quaily coil isolation for high-voltage protection
3. 100% Waterproof stainless unit for long lasting operation
Installation Steps

1. The deviations between the lock and the striker plate should be under tolerance of 5mm, otherwise the lock sensor may provide false reading.
2. Make sure if your supply voltage is 12V or 24V DC and connect the wiring accordingly, wrong connection or voltage will cause overheating and burn the Electronic magnet 's coil and will void your warranty.
3. Don't tighten the flat-head screw when installing the striker plate, the thickness of the rubber washer (between the 2 metal washers) should be squeezed from 4mm to 2mm to achieve max holding force.
4. For a in swing installation, a suitable Z-Bracket should be ordered separately to suit this type of installation
Trivia
500mA ÷ 1,000mA/Amp.
= 0.5 Amp. (½ Amp).

mA = miliampere

1000 mA = 1 Ampere

An ampere is a unit of electrical current.

Specifically, the ampere is a constant current which, if maintained in two straight parallel conductors of infinite length, of negligible circular cross section, and placed 1 metre apart in a vacuum, would produce between these conductors a force equal to 2×10-7 newton per metre of length.


DC 12V connection
Electrical Wiring
DC 24V connection
Draw current - 12V/420mA 24V/210mA
WeatherProof
Magnetic Lock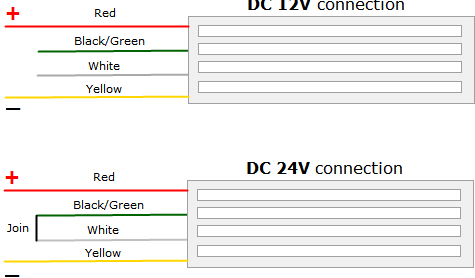 Electromagnet Magnetic Locks for Gates and Doors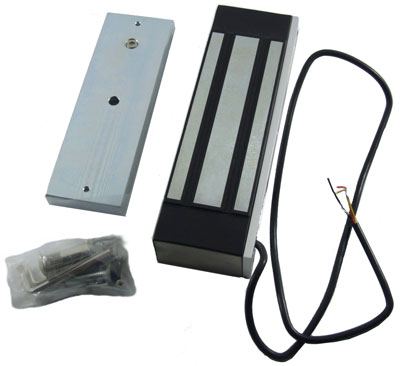 Works from your gate motor or Key pad


We Ship Australia wide
International buyers must apply for
shipping charges prior to purchasing




We Ship
World-Wide
10 years on
still growing
Magnetic Locks