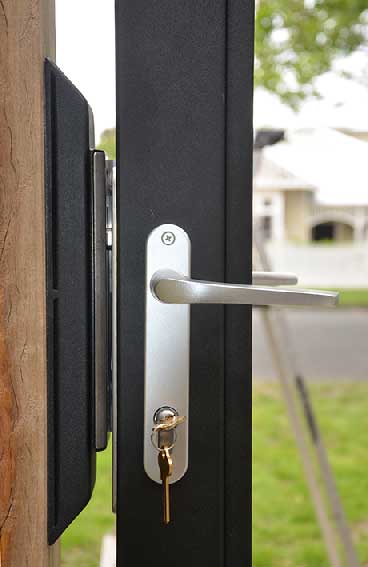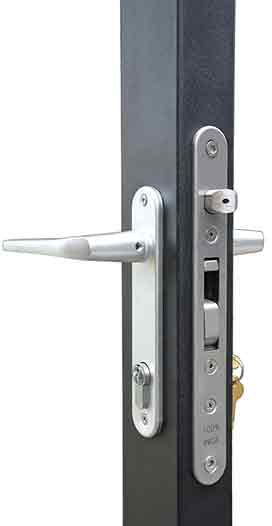 Insert lock with 100 percent stainless steel mechanism. The massive stainless steel hook and adjustable latch bolt makes this a one of the secure locks in the market place today. The combination of the hook (dead bolt/night bolt) with the corresponding keep provides a secure anchoring of your gate. These locks can be used on metal or aluminium gates or with our fully prepared steel profiles.

The smallest size steel the H-Metal locks fits into is 65 X 35
mm but I like to work with 65x50 steel mainly the 50mm wide gives me more choices.
H-Metal In frame HI Security Lock
Inframe Series H-Metal LOCK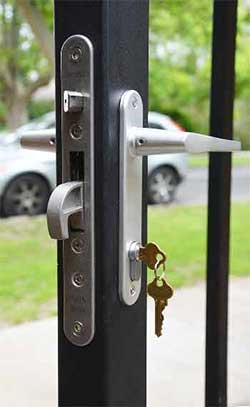 Keeper for the H-Metal lock
Sold separately


H Metal Lock
Kit
- FK509 - $195.20

included with the Mortise lock

Handle Set
Key barrel
Cover plate
Lock Box

These can be purchased separately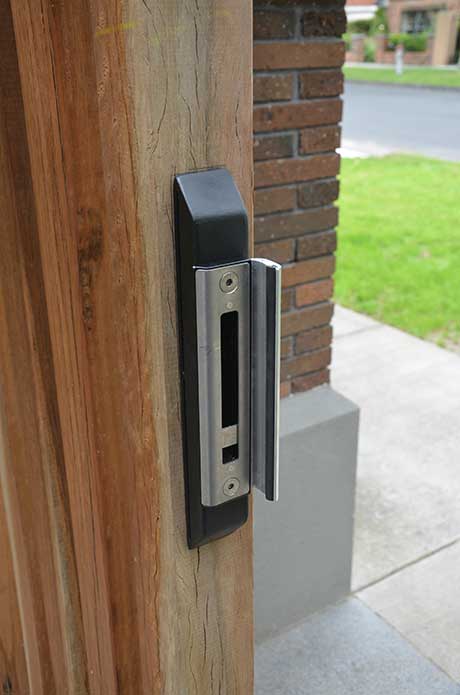 Keeper for the H-Metal lock
Sold separately

FK070 - $34.25
Keeper for the H-Metal lock
Sold separately

FK070 - $34.25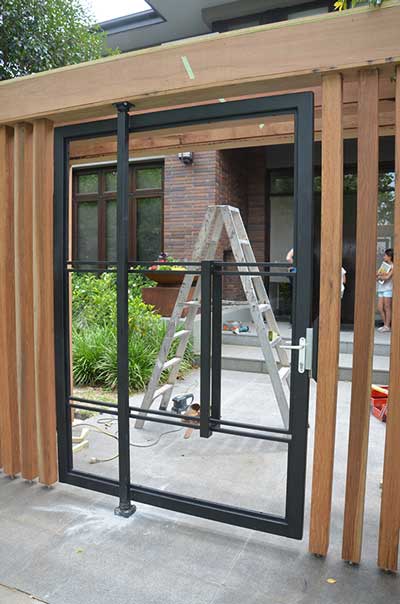 H-metal lock and keeper installed on this gate, just before the gate was about to be cladded with a metal sheet.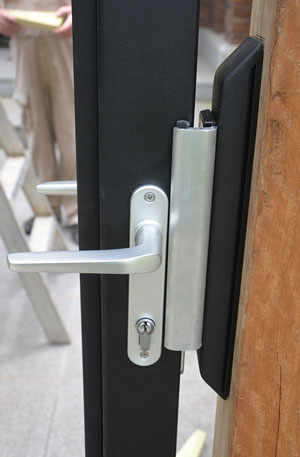 This shows how versatile this lock is, I made a mounting bracket out of 50x25 tapper each end and screwed it onto the timber which houses the keeper. It also shows the keeper stop making it impossible to crowbar open the lock. If you could get pass the keeper then you need to deal with the big hook - making it one of the safest locks in the world.
[]
Adjustable for profiles: 40 - 60 mm

[]
Innovative mounting: Quick-Fix

[]
Anchoring plate for hook

[]
Stop plate is available in different RAL-colours Black or Alum.

[]
Easy left or right changing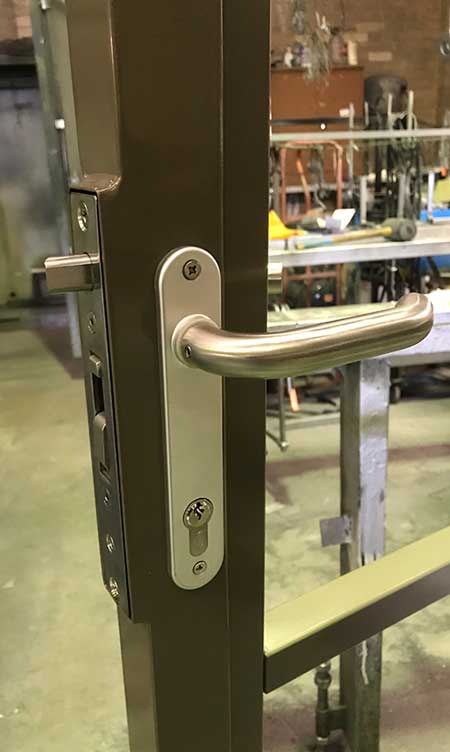 Using the Locinox Hmetal Lock in a 50x50mm frame but I could not intrude on the infill so I extened the lock in a Lock Box got the look I was after great lock in a 50x50 gate frame.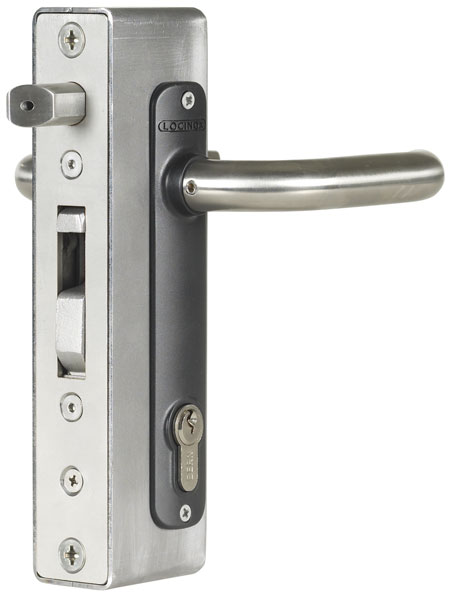 H Metal Lock inside the lockbox to show the fit and how you might weld it into a frame.
Lock and Lockbox sold separately
Gate
Hinges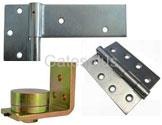 Pedestrian
Gate Closer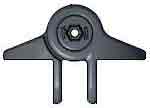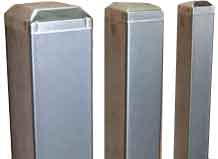 Steel
Post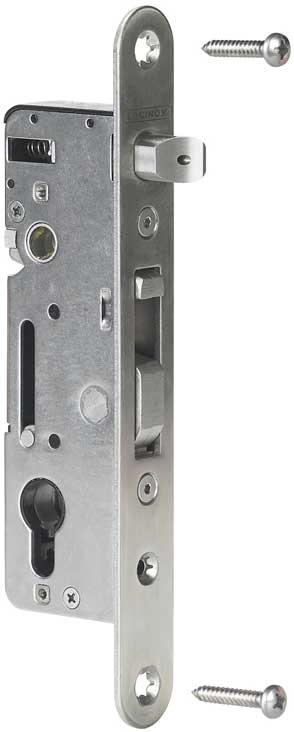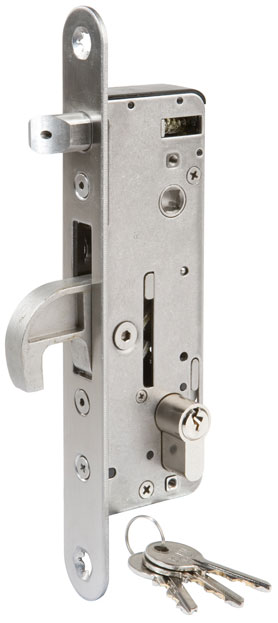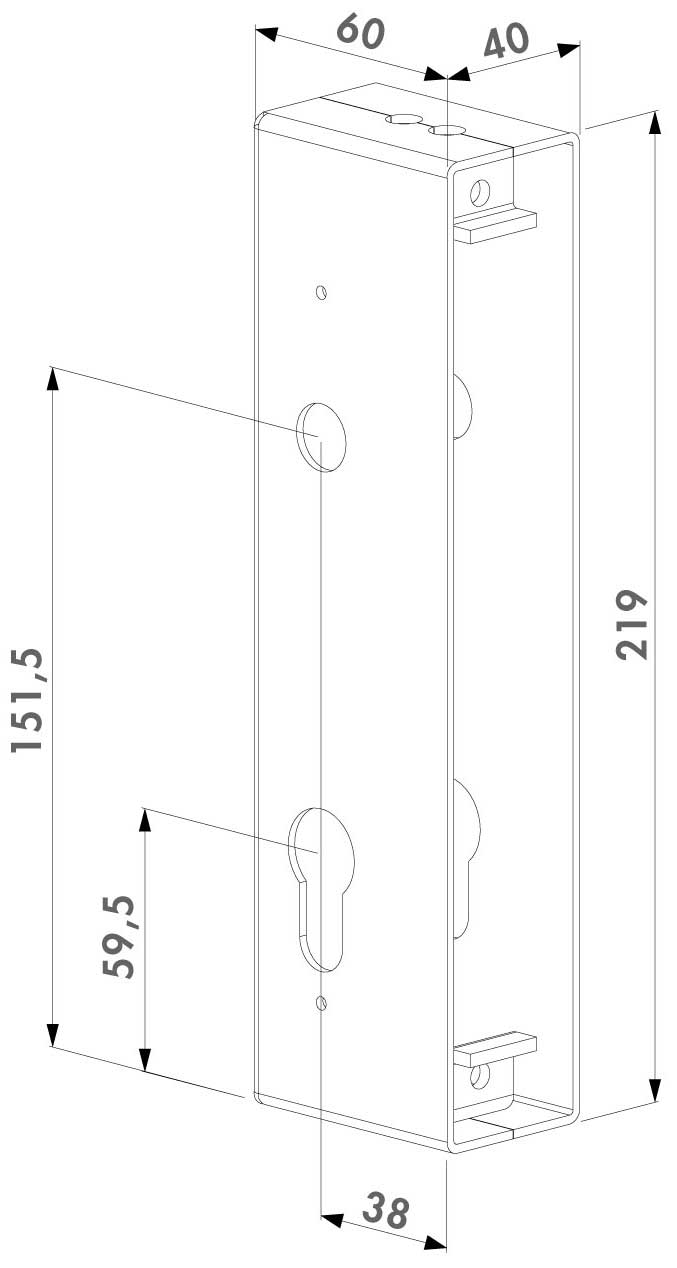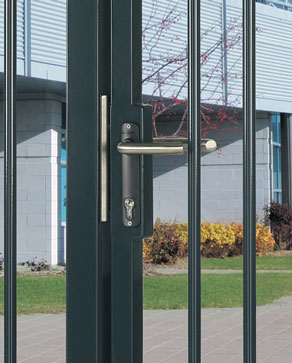 Lock Box for H-Metal lock
Material - Steel
Sold separately

Part No. FK072 - $48.50
[]
Easy left or right changing of the self-latching daybolt

[]
Key-operated self-latching bolt

[]
Adjustment of the latch bolt up to 20 mm continuous without dismounting the lock

[]
Mechanism, hook, frontplate, latchbolt: stainless steel

[]
Handles and cylinder to be ordered separately

[]
Stainless steel hook for secure anchoring

[]
Throw of the hook: 33 mm

[]
Center-distance cylinder <=> handles => 92 mm

[]
Hook in combination with the Locinox keep provides a secure anchoring

[]
With coverplate for lockmechanism against dirt penetration

[]
Compatible with 54 mm, 60 mm and 80 mm Europrofile cylinder

[]
Cover shield for handle & cylinder holes to be ordered separately

Locinox
Gate
Handles