Product Details - SBLD1601AH


Professional and stylish gatelock which holds the gate shut. Turn the key to extend the latchbolt 30mm into the gate post for maximum security.


[]
Stainless steel latchbolt which springs 13mm into the gate post and then moves to 30mm when the key is turned to deadlock the lock.


[]
Latchbolt is adjustable in length for precise fitting on site.


[]
Keyed both sides for easy access


[]
Easy to rotate latchbolt for LH/RH gates. Available in two sizes; GL004 10mm, 12mm, 16mm Flat Bar, 25x25mm and 30x30mm box section gate frames The GL006 for 40x40, 50x50 and 60x60mm box section gate frames.


[]
Choose you Handles – three styles available, see lock handle section below. To order, add the handle code to the lock product code.


[]
Supplied with bolt guide plate and gate post strike plate.The brass bearing plate locates the latchbolt precisely and guarantees a very smooth gate closing action.
Bolt-On Latch Deadlock

No Welding required just drill 3 Holes.
1. Drill 2 x 9mm dia. holes at 92mm centres for M8 fixing bolts
2. Drill 18mm clearance hole for latchbolt at 22mm centres down from the top 9mm hole
3. Fix lock in place using stainless steel clamp plate, bolt support plate and 2 stainless steel countersunk fixing bolts supplied
4. Drill clearance hole in gate post to receive the latchbolt. Slot this hole vertically to allow for gate sag
5. Ensure latchbolt moves freely without binding on gate or frame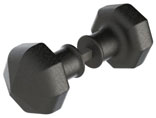 Octagon Knob - Made from solid cast iron, vandal resistant.
Code: HDGH102 - It will add $20.00 to the lock
Traditional handle - Detailed twisted pattern handle to match decorative ironwork.
Code: HDGH107 - No Charge
Types of Handles Available
Gate
Hinges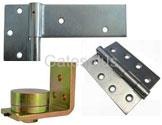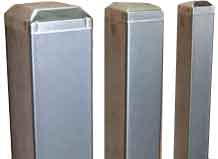 Steel
Post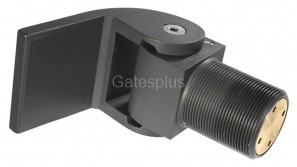 Bolt on Latch Deadlock for 10 - 30mm Frames. Code: GL040 - Need to select your Handles - see below
$195.40
Bolt on Latch Deadlock for 40 - 60mm Frames. Code: GL048 - Need to select your Handles - see below
$195.40
GatesPlus





Pedestrian
Gate Closer
Gate
Locks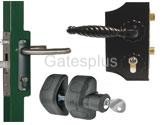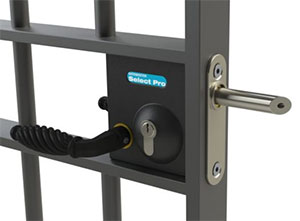 Easy as to Install