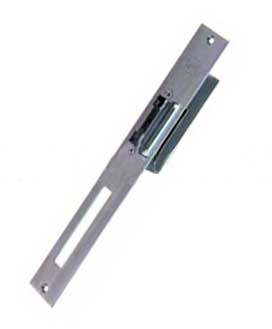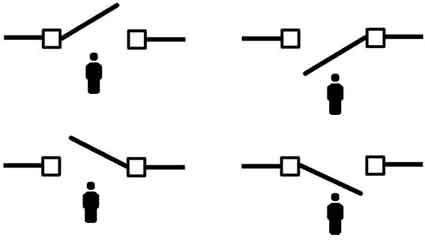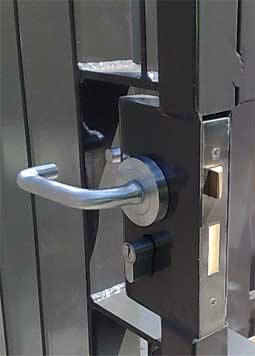 Mortice lock - Weld in lockbox
Pack Two


This pack consist of
lockbox to weld into the frame
Mortise Lock
Handle Set
Key Barrel


$195.80 -
see below what in this kit

You need to weld the Lock Box into the Frame
can be welded into 30x30, 40x40 and 50x50mm
Tube steel.

Mortise or Mortice ?
A mortice lock (mortice lock in British English) is a lock that requires a pocket-the mortise -
This way of spelling of Mortise is Mainly used in the USA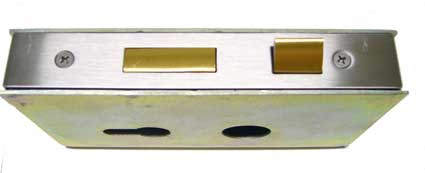 A mortise lock inside a Lock Box
Link to the Lock Box section
Mortise locks

Mortice Locks for Gates
Gate
Locks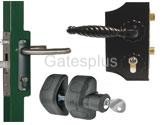 Gate
Hinges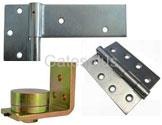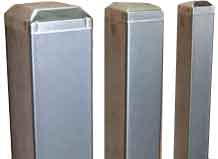 Steel
Post
Electric
Gate
Striker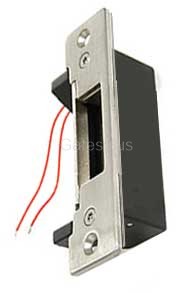 Mortice Lock - Euro
Euro Cylinder 58mm Set Back from front lock with Brass latch bolt and security Bolt with 48mm hole centers in satin Stainless steel and polished Brass finish
If fitting into a metal Gate a a lock box is required and needs to be welded into the Gate Frame

$ 38.50 P/N FK330 Electric Striker to Suit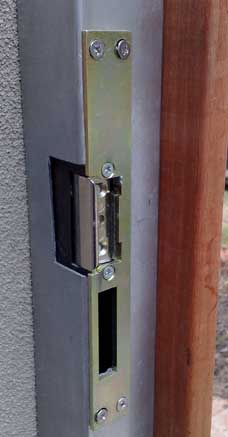 Add a Handle set and Key barrel

All the required items to make this lock can be purchased in the
"mortise lock set Pack Two"
- see below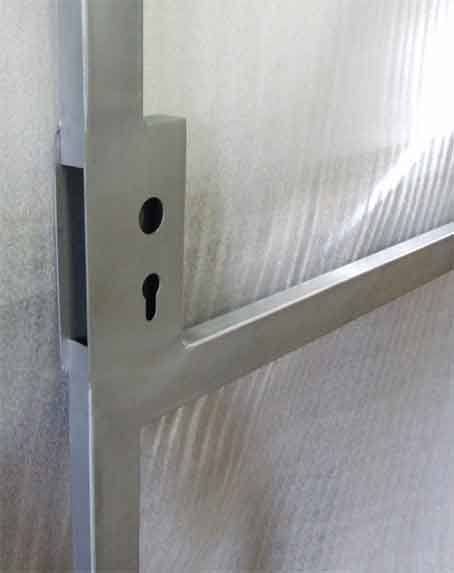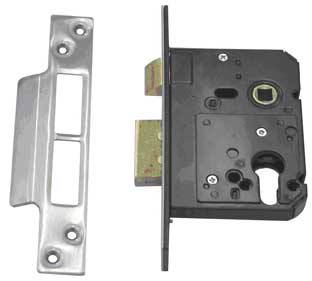 +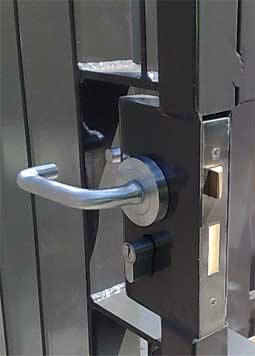 Lock Box welded into the frame

Mortise lock set Pack Two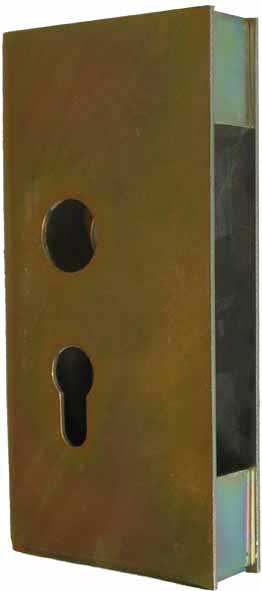 +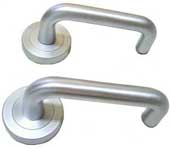 +
Lockbox - Euro
with 58.5mm Back Set
$36.00
P/N FK920
Lever Handle Set - Antonio
Ideal for Gates with a modern look, D Shaped gate handle style
Comes complete
1 x shaft
Long Screws
Finish Satin Chrome

$66.00 P/N FK255
Euro Key Barrel
70mm 5 Pin or 6 Pin Double keyed Cylinder with 2 x C4 Keys in Chrome plate, satin chrome plate and polished brass lacquered finishes Ideal length for the thickness of a gate.
Escutheon
Satin Chrome finish
Part/No FK495
$34.50 pair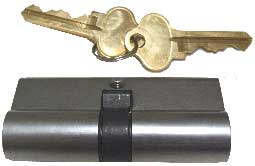 +
Buy this Complete Mortise lock Pack Two Kit for $195.80 and save.
Includes Mortice lock - Euro + Lockbox - Euro + Lever Handle set Antonio + Euro Key Barrel + Escutheons - P/N FK960

Need a Electric Striker for the above Kit

Electric Gate Striker
Recess mounted with extended faceplates in failsafe or failsecure with 12VDC (400maA) wiring, Size 250mm height x 31mm wide

$95.00 P/N FK705
A
C
To Select the Correct Electric Striker
Your Standing at the Front of your gate and about to Enter
Now select which way the gate will swing
B
D
Set Back refers to the distance between the center of the Handle,or lock cylinder and the outside edge of the face of the lock.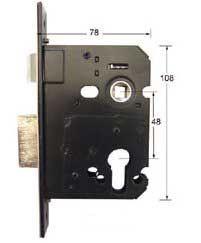 Bolt on
Lock
OR Buy this as a KIT save $$
Mortise Kit Complete
FK960 - $195.80