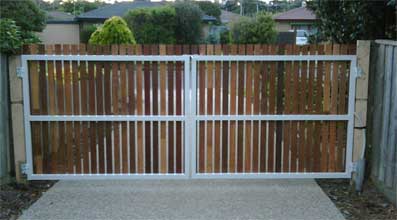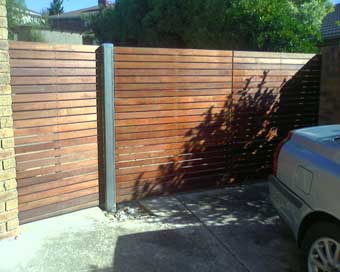 All the pictures in this library are of Customers who install their gates and attached the timber themselves - We only supplied the DIY Frame.
A DIY Gate Frame ready for timber hope to see more pic when finally finished - Scott
This picture shows a panel dynabolted to the wall this was installed to allow the gate to swing pass the Gas meter
This is ordered separately to the DIY Gate Frame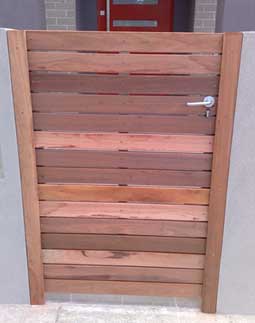 Page Two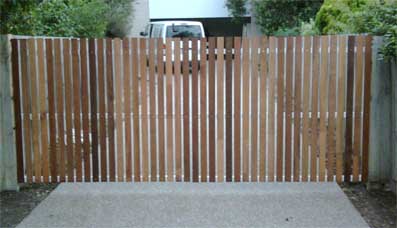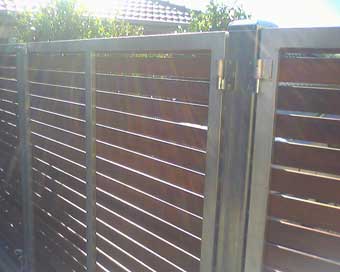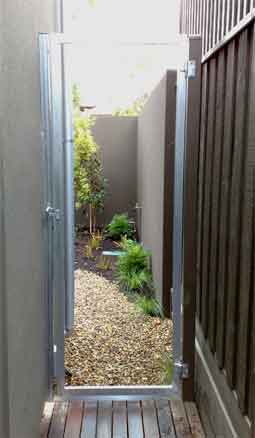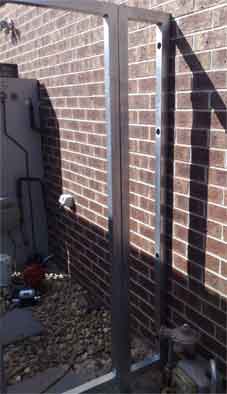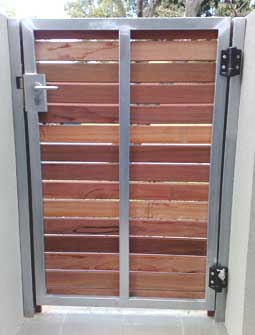 Front and Rear pictures of a DIY Gate frame that Goran taken delivery of like the all timber look from the front, Timber used is Jarrah, the gate frame has a lock box welded and we supplied the electric striker, handle set and mortise lock also Goran want the gate to be self closing, we also supplied the self closing hinges. - Smart look to a DIY Gate Frame.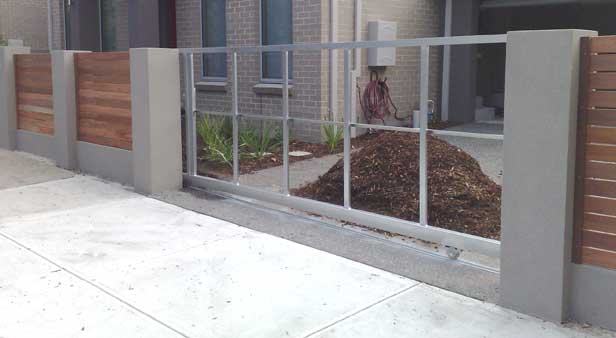 The DIY Sliding gate ready to be cladded, noticed how the driveway slopes almost 100mm to over come this 1 wheel was lifted and with some smart paneling on the front you want see this.
This sliding gate has a sliding block to guide the gate for more information on Sliding blocks see here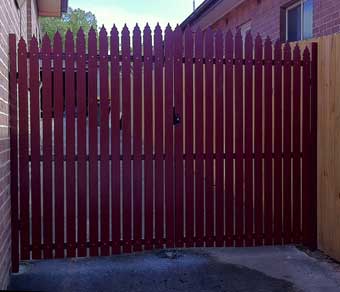 DIY Photo Library
A Collection of DIY Gate Frames Customers have Installed and Cladded their Gates
The Gate frames and post are powder coated in Hunter red and Pau who lives in Sydney l cladded and installed the gates himself, the colour matches the eves on his house Great Job Paul.
What a good Job Jason - I think he suprized himself too - Jason purchased a set of driveway gate frames powder coated Surf Mist - The gates are hung well and straight there is a DIY'er is us all wanting to get out - Why not try and install your gates next.
We supplied these gate frames and post to Matthews Dad now Matthew has taken delivery of of a set of DIY Gate frame for his house I hope to have his pictures here Soon. It's no competition but Dad has done a excellent job not to mention on their new patio. A Tip from Matthews dad place a 10mm gap between the timbers it's really provides a security looking in and at the same time able to see out clearly.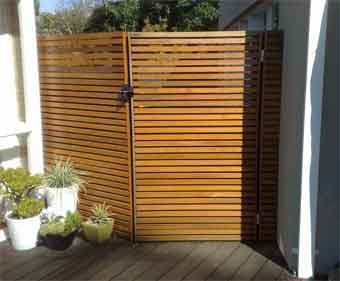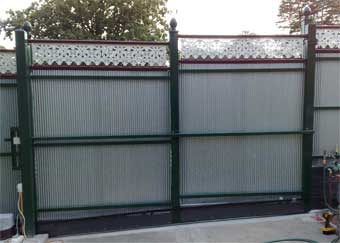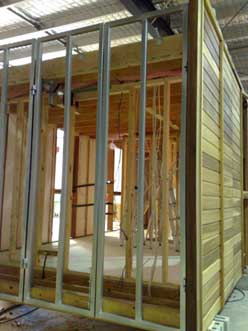 Above 4 x DIY Gates frames 3000mm High x 900mm wide about to be cladded in cedar completing the utilities area on a portable home.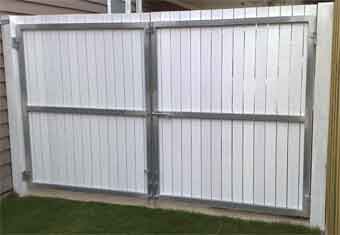 Well thought out and looks great - This DIY gate frame swing out Great Job - Damian
Like the use of the Lockwood 001 on the back of the gate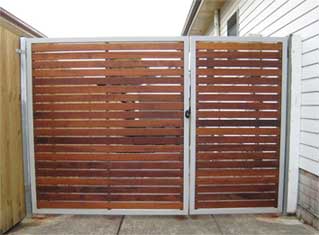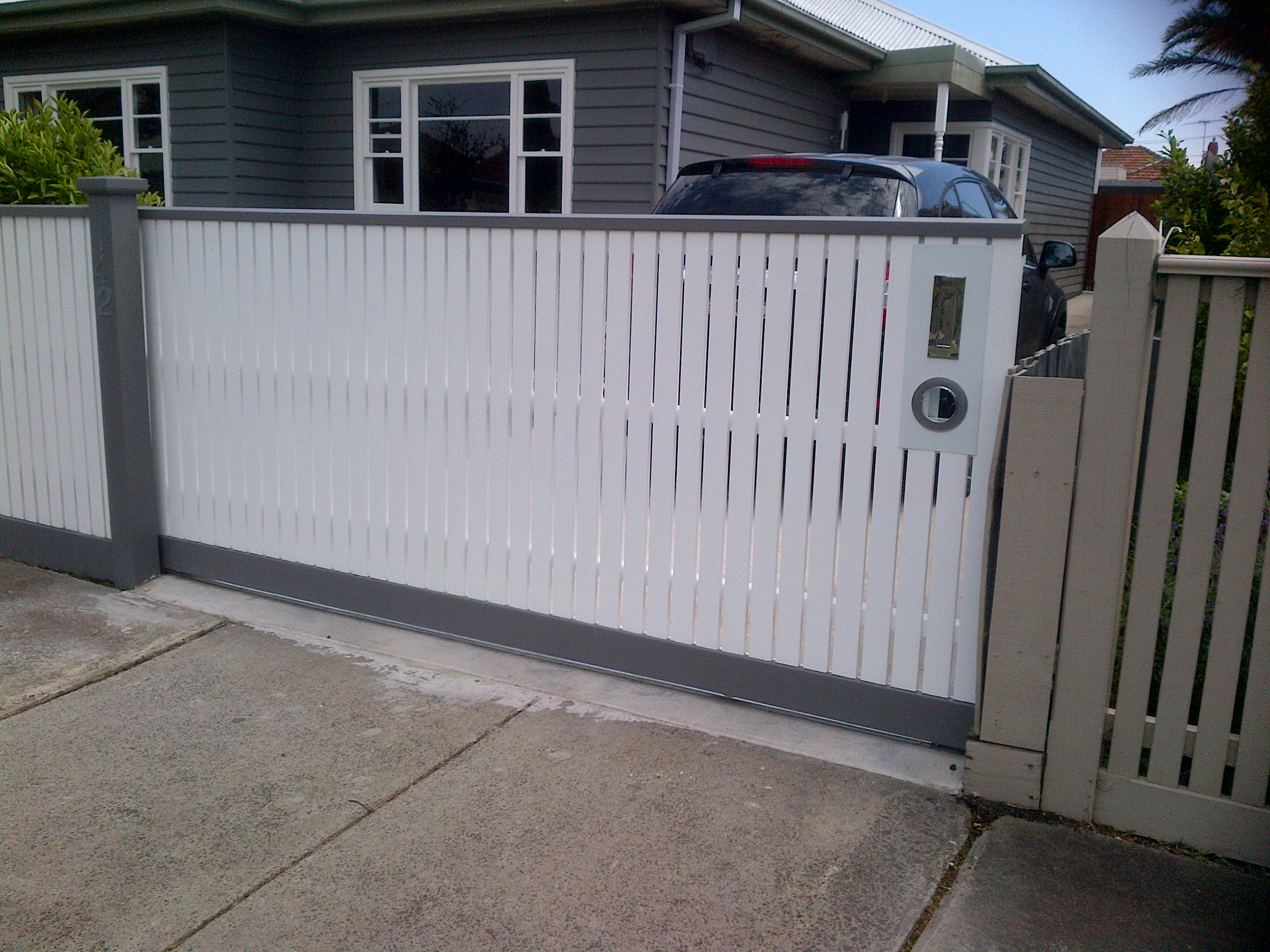 Darryn Cann, Hats off to you, job well done, We supplied the Gate Frame powder coated off-white. Notice...With the plinth board just looks like the rest of the fence and with the recessed wheels - you can't see them, Good Job well done Darryn