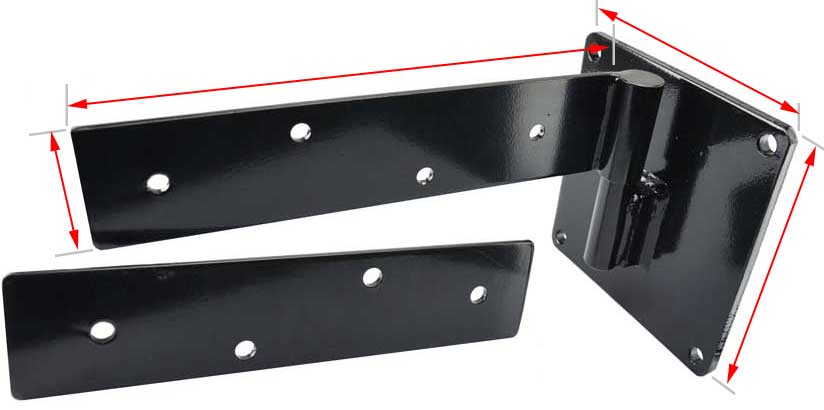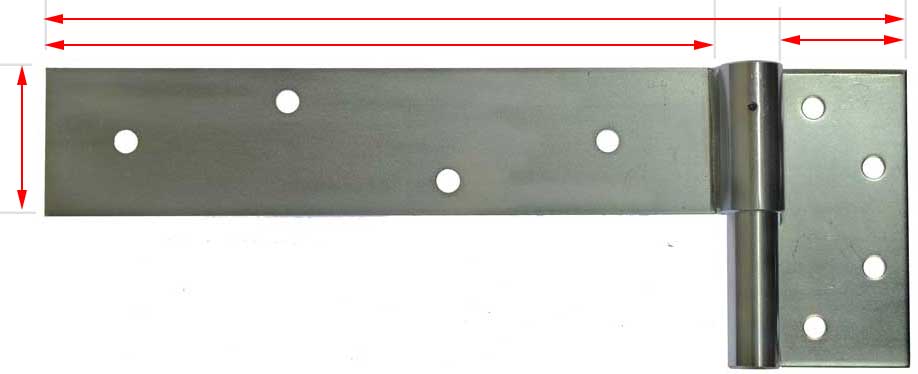 Left Side Strap Hinge
1 Pair - $170.00
Part Number - HN626

Pair is Top and Bottom hinge one side

Pin size 25mm
Gates up to 800 kgs



Large Strap Hinges
Large H/duty plate hinges gates up to 800 kgs
Strap Hinge 350x75 25mm pin with screws

$78.00 pair P/N HN640 - Left Side

$78.00 pair P/N HN641 - Right Side


These strap hinges has a flap big enough to bolt straight on to brick in some cases it's your only option.
200
mm
Pin
25.5mm
Plate
200x200mm x 10mm
4 x holes 12mm
Right Side Strap Hinge
1 Pair - $170.00
Part Number - HN624

Pair is Top and Bottom hinge one side

Pin size 25mm
Gates up to 800 kgs

Right and left Side Strap Hinge -
2 Pairs both sides - $320.00
Part Number - HN628

Pin size 25mm
Gates up to 800 kgs

Adjustable Timber Strap Hinge - upto 250 kgs Timber Gates - Powder Coated - Satin Black

Part Number - HN630 -
$275.00 pair
- Steel - Zinc Plated - Powder Coated Black
Strap Hinges - Adjustable


300mm long includes hinge and strap -
HN650 $220 /pair
400mm long includes hinge and strap -
HN652 $240 /pair

Strap Hinges

Gate Strap Hinges are mainly used on wooden gates providing more support and a larger surface over the timber because timber is soft.
Strap hinges are normally quite long and help to reinforce the wooden structure of the gate to which they are fixed. For especially heavy Gates,

Strap hinges come in a variety of styles, including wrought iron strap hinges and gate strap hinges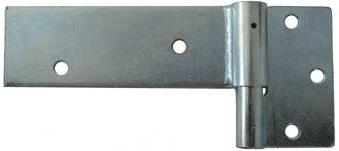 Remember - To order the correct side hinges you need to stand where you can see them and only then they will be on your right or left.
Max Gate weight 150 kgs

each hole 9mm Holes

Design to Swing a Gate -180 Deg

PLUS they are adjustable


500mm long
includes hinge and strap -
HN654 $260 /pair


Strap Hinges for Timber Gates
Strap Hinge 300x50mm 14mm pin
For gates up to 100 kgs - Zinc Plated

$36.88 pair P/N HN610- Left Side


$36.88 pair P/N HN611 - Right Side


$69.50 both sides Left and right pairs
P/N HN618




75
mm

These are Right side hinges
75
mm
These Strap hinges are designed to carry heavy timber gates comes with 2 plates one each side of the gate, The mounting plate is also designed to spread the load over 4 bricks the plate is 10mm thick, the hinge is out from the mounting plate to allow the gate to swing out to 120 degrees in an open position. Can be powder coated to all colorbond colours. These Strap Hinges are made from Steel then Zinc plated then powder Coated. Life span - 22 years
Suggestion.
If you are using a soft timber for a gate it might be a good idea to place another strap on the other side of the hinge placing the timber between the 2 straps just like a sandwich.
Vandal Proof

We can Powder Coat
Your Strap hinge to

any
colour

$12 Extra fee applies

send me an email
and I will Do it !!!

powdercoat@gatesplus.com.au
Attaching strap hinges to timber gates use Coach Bolts or coach screws


Pin
25.5mm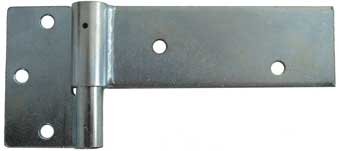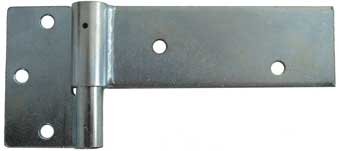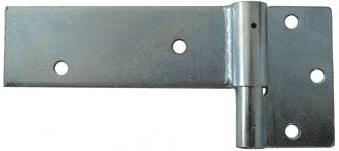 Right Hinge Short Strap - Pair - $21.50
Part Number - HN604
Screw On / Screw On - Zinc plated
Pin size 14mm
Gates up to 120 kgs
Gate
Locks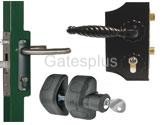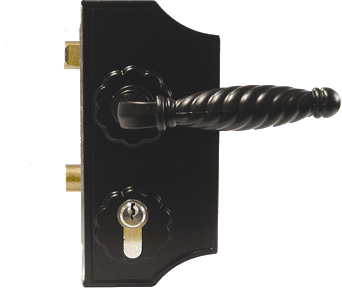 Wrought
Iron
Locks
Left Hinge Short Strap- Pair - $21.50
Part Number - HN602
Screw On / Screw On - Zinc plated
Pin size 14mm - Gates up to 120 kgs
Locinox Stainless Steel Strap Hinges
A very Smart Looking strap hinge from Locinox unlike any other strap hinge it offers vandal proof protection a first. The stainless steel hinge can be adjusted in 4 dimensions. Height, depth, left / right alignment and rotational direction can be adjusted. Adjustments can be made after installing the hinges. This way your gate is always perfectly aligned even if the timber bends and twist due to weather conditions during the life of the Gate.
150
mm


NEW FEATURE
- Vandal Proof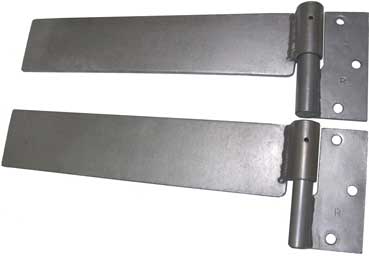 Strap Hinges
Strap Hinge 300x65mm 19mm pin
For gates up to 400 kgs - Zinc Plated
You drill the holes where you want them.


$69.00 pair P/N HN613- Left Side


$69.00 pair P/N HN614 - Right Side