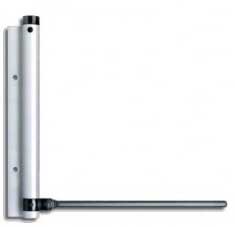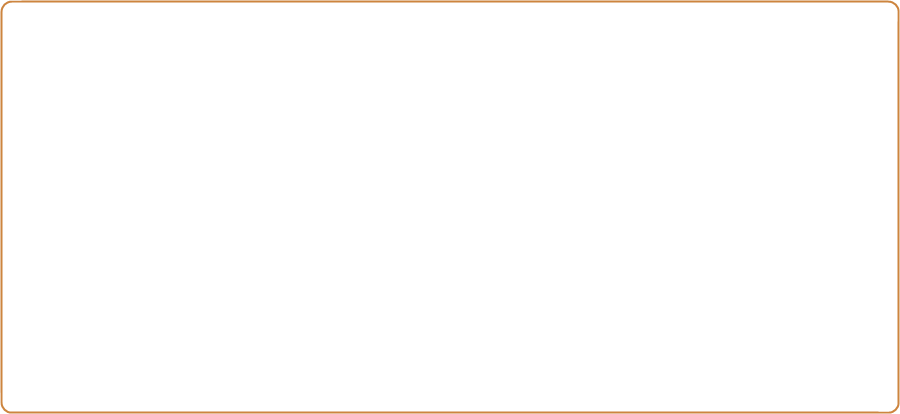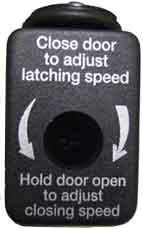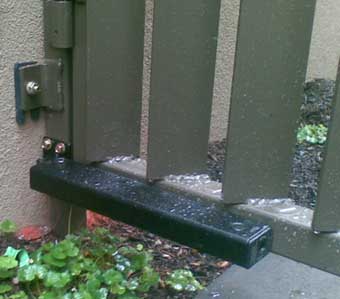 Automatic Gate Closer
Black Finish - Fits all types of gates.
$102.00 P/N MS670

(Shipping weight 1.07kgs)

Shipping cost Australia - $12.00 USA - AU$85 (3-5 days) Asia - AU$58

GC-2000 Gate Closer for gates up to 50Kg
(120LBS)
and maximum gate width of 1000mm
(3.28 ft)
. The GC-2000 offers a small profile compared to most gate closers. Easy installation. Closer has long service life. Tested to over 100,000 operations. Designed for metal gates but also works well on wooden gates. Two speed closing slows gate speed as gate is closing

Maximum gate opening is 90 degrees.
Made for use on gates which are hinged by butt hinges or surface mounted strap hinges. Installation fasteners are included

For a real heavy gate you can attached 2 gate closers one on the top and the other on the bottom - now that's serious push power.

360mm Coil Gate Closing spring
Very Powerful
Suitable for both left and right gates.
Can be used for both inward and outward swing gates



Postion one end on the gate and the other on the post half way, then tension by turning one end when the desired tension is reached then place the pin in to hold the tension.
Part Number MS672 - $18.50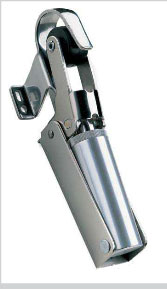 Stops
Gate and Doors
Slamming - Catches the gate or door in the last 10 percent of closure and Gently closes it.
Stops gates Slamming making noise
Assures an entire closing
Eliminates possible Gate/Door Slams
Easy to install - Can be installed Vertical or Horizontal
Anodized Silver Finish


Up to 75cm wide/15kg

P/N MS678 - $120.00


Up to 90cm wide/40 kg

P/N MS680 - $120.00


Up to 110cm wide/80 kg

P/N MS682 - $135.00
Up to 125cm wide/115 kg

P/N MS684 - $145.00
Stainless Steel Finish

Up to 110cm wide/80 kg

P/N MS686 - $195.00

Up to 125cm wide/115 kg

P/N MS688 - $195.00
The Video is slowed down to show how it works - This Pedestrian Gate has a pair of Self Closing hinges fitted.

Residental Use Only

Warranty void if used in a Commerical Use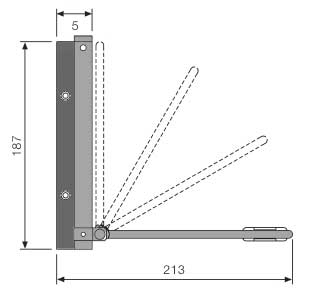 Closing Spring Arm

Auto closes both Gates and Doors upto 40 kgs

Weatherproof so easy to install.


MS674

$56.00



A Slamming Good Deal


Special Package Deal for limited Time


Working together to quiet the gate
1 x Closing Spring Arm - MS674
1 x Anti Gate Slammer
- MS680


Normally together $240.00
includes Freight


Special Deal Price - $212.00
Save $28.00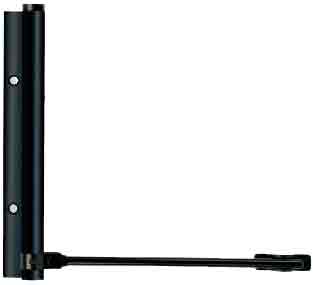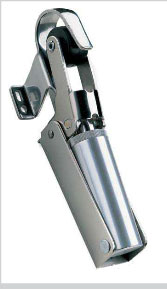 This Video shows a gate with the Closing Spring Arm working together with the Anti Gate Slammer

The gate is 1540mm Wide and 1600mm high, weights 23 kgs. In this demonstration I have fitted a Anti Gate Slammer and a Power Spring arm to this gate, The frame is 100x100mm Hollow square RHS it echos is appilfied through out the frame . This is the worst case scenario for noisey Gates. Just image if your post were more substance.
Plus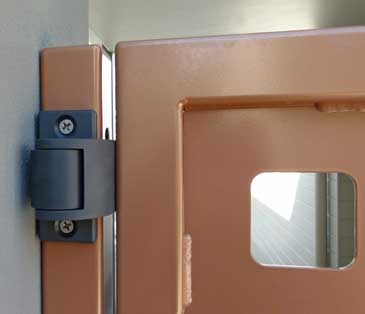 Relative Products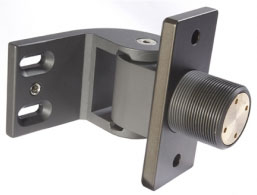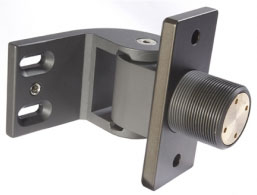 Commercial Hinge and Closer all in One - Kit GC145 Comprise of...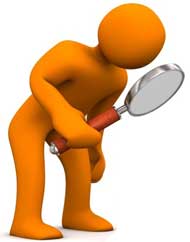 Take a Closer
look - Click here

Also Available in Black colour
360mm Coil Gate Closing spring in Black
Part Number MS673 - $19.50



We Ship Australia wide
International buyers must apply for
shipping charges prior to purchasing




We Ship World-Wide
*condition apply
Gate Closer
See below for
Commerical Gate Closers