Product Details
24V DC Linear Drive Motor with

The 24VBadAss Swing Actuator (MW304)has a modern & slick design that will complement any gate. Its easy to install, offers an uninterrupted power supply. Manual keyed release for easy access when necessary. The Control board offers an array of features including programmable logic. This Gate Opener will cover most residential and light commercial applications.
This double gate opening system is a robust, tuff, long lasting and a quiet opening and closing system for double swing gates up to a maximum of 8m in length (2 x 4m leafs - non cladded gates). The motor can handle light and heavy gates. The MW304 is a sleek looking European design telescopic linear screw type actuator that is made of stainless steel with a cast aluminum motor housing.
The motor is a durable and powerful 24V unit and the gear box is heavy duty and all gears are constructed of metal (no plastic, fibre or nylon).
The MW304 is fitted with an emergency manual override to allow the user to open the gate manually in case of an emergency such as a power failure situation.

24V DC Linear Drive Motor

Model - MW304
So powerful ideal for Big single gates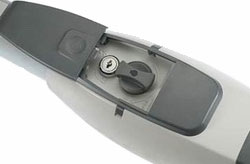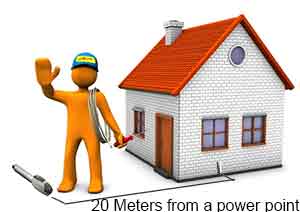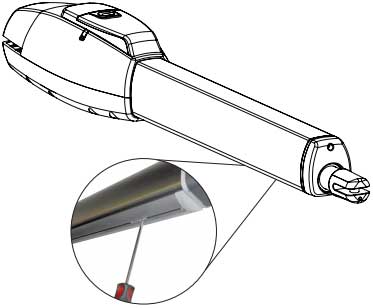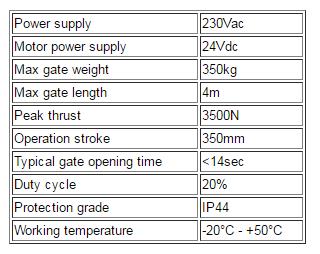 Product Specifications
Adjustable Built-in Limit Switch device for intelligent stop in opening and closing
Just slide the micro switch and tighten to control the stopping and opening positions with a screwdriver
.
[]
Die-cast aluminium enhance structure body for strength


[]
Easy manual release operation from the top by means of a personalized key


[]
Special surface treatment to enhance hardness and stainless inner tube for lasting and durability over the years of service to come.






Related Products

There are Two units available depending on the distance of the Power outlet (240V)
These units are DIY and no Electrician is Required to install them.
Is there 240V power outlet at the Gate
Do you have a 240V power outlet 20 meters or less away from the gate.


OR