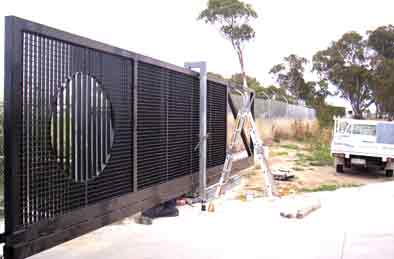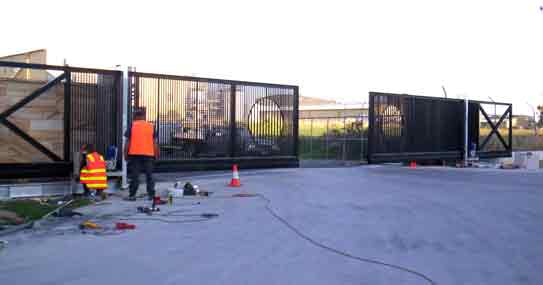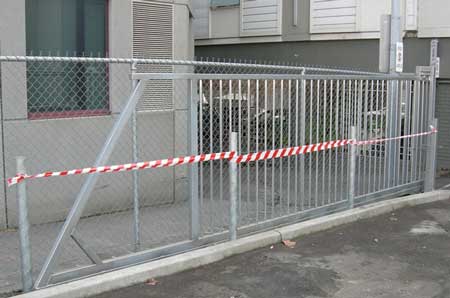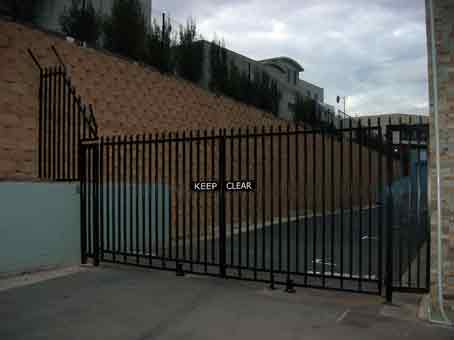 Cantilever Sliding Gates

These types of gates offer
*High Security
*Quit Operation
*Operation over uneven surfaces or sloping driveways
*No tracks or rails over the road

There is no min-width and the maximum opening depends on the gate builder, Left Picture shows Two cantilever meeting in the middle of the road width 18 Metres

This gate was built based of 200,000 openings with a working life of 12 years.




Specification
Weight : 1.223 kgs each
Height : 2.200mm
Lenght : 12 metres with 9.2 over the road each.
Motors : 3 Phases
Opening and Closing speeds : 37 Meters per Min
Gate Material : RHS Galvanized Steel
Finish : Satin Black Powder Coated
Rolling Gear : Italian

Maintenance Contract
4 onsite visit each year.


Cantilever Gate in the Heart of the City. 6 Meters long 2 meters high, includes operation using GSM (Mobile phone replacing hand held remotes 26 Car parks spaces opening and closing 78 times a day, 390 times per, 18720 times per Year How do we know this we have gate counters on these high use gate to determinate their Gate maintenance agreement, It has a set of photo safety beams and a low voltage sliding gate motor.$7,834.00. Subject to conditions, soil, location, electricity and travel
.

High Security Swing Gate
Concealed Hinges away from being cut.
Hidden Control Box
If the gate is tampered with - Flood light come on.
Swing out to prevent being rammed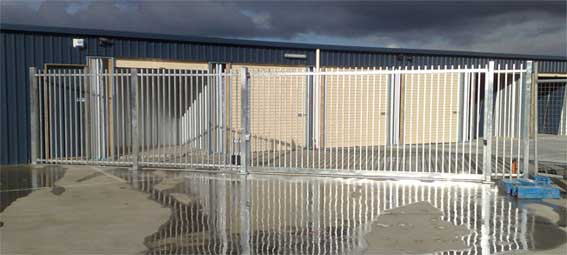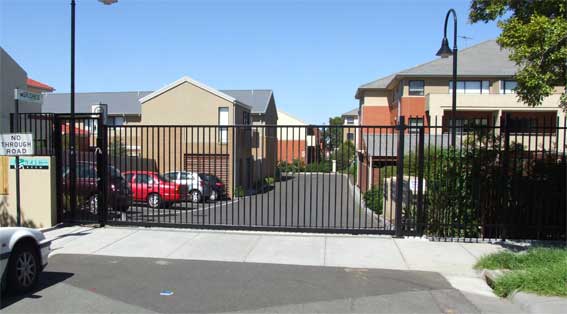 C233 - Sliding Gate 8000mm x 2200mm with a Low voltage gate motor 240V outlet is 45mtrs away, the need to have a 240V power outlet at the gate those days are gone. This gate opens 1386 times a week. 66 users and a timer to have the Sliding gate open on certain days for the Gabage truck.
C244 - A Siding Gate installed in Warragul Gippsland Victoria the gate is Hot dipped Galvanized - it serves as an entrance to a Storage Business. Delivered and bolt down up and running in Hours.
C344 - Cantilever Gate at the entrance of Surdex Steel Park in Dandenong Each gate is 12 mtrs long
Sliding gates can be controlled via a selection of Access Controls

1. safety induction loop
2. free entry/exist loop
3. intercom
4. push button
5. digital keypad
6. card reader
7. token reader
8. Hand held transmitter
9. Mobile Phone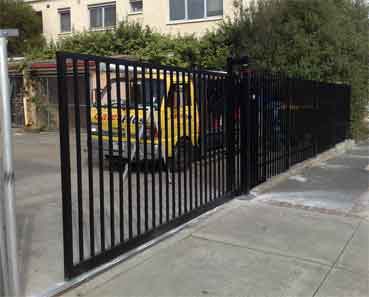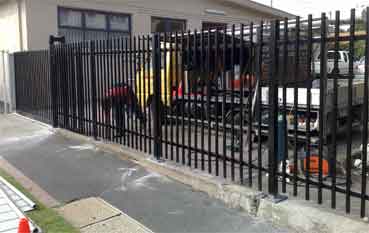 Sliding Gate and Steel Fencing - The fence was required to follow the slope of the land special plates and chemset rods were needed.
All pictures are watermarked - "Copyright 2/1/09 by Gatesplus
Cantilever Gates
DIY Aluminum Cantilever Sliding Gate Kit with Motor
$6500.00

Delivery expected 5 weeks


We Ship Australia wide
International buyers must apply for
shipping charges prior to purchasing
incorporating
TigerLink Hardware
We Ship
World-Wide
10 years on
still growing
Cantilever Sliding Gates